〜Map〜
Neighboring map
1 minute walk from Ikebukuro Staton C6 exit .
※Neighboring map will be expanded by clicking.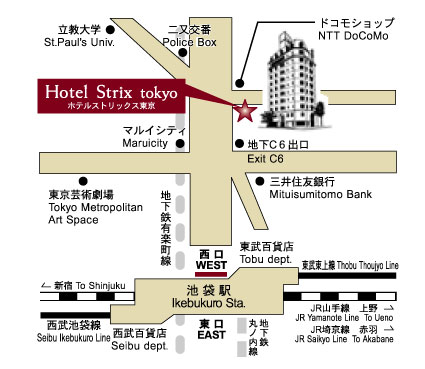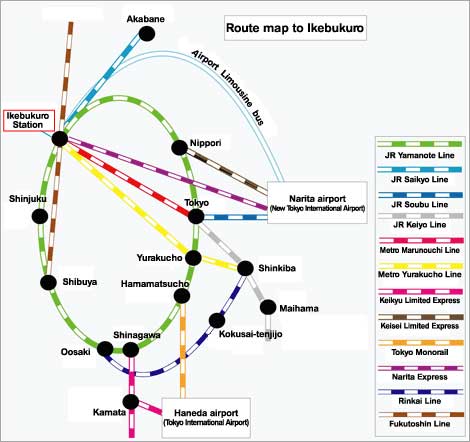 Address
2-3-1, ikebukuro, Toshima-ku, Tokyo, Japan. ZIP 171-0014
Telephone/Fax
TEL:
0120-012-357(toll−free dial)
03-5396-0111
FAX:03-5396-9815
Parking area
Number of accommodation : 18car
Height limitation : 155cm
Width limitation : 172cm
Length limitatiom : 505cm
Weight limitation : 1600kg
Parking fees
Hotel guest : \1575 (1 night)
\250 per vehicle / 30min
Access
●From Narita airport
 Take the Narita Express to JR Tokyo station .(Approximate 60 minutes)
●From Haneda airport
 Take the Tokyo Monorail toJR Hamamatsucho station .
 change the JR line and come to Tokyo station .

●15minute from Tokyo station on the Subway Marunouchi line .
●20minute from Yurakucho station on the Subway Yurakucho line .
●10minute from Hamamatsucho station on the JR Yamanote line .
●27minute from Shinagawa station on the JR Ymanote line .
●15minute from Shibuya station on the JR Yamanote line .
●8minute from Shinjyuku station on the JR Yamanote line .
●7minute from Akabane station on the JR Saikyou line .
●13minute from Nippori station on the JR Yamanote line .

↑Page Top